Fusarium head blight in western Canada
Overview
By Randy Clear and Susan Patrick, Mycology, Grain Research Laboratory, Canadian Grain Commission
Revised January 25, 2010 (History)
Fusarium head blight (FHB) is a fungal disease that may infect a number of crops in Canada – wheat, barley, oats, rye, corn, canary seed and forage grasses. However, the crops most affected are wheat, barley and corn.
Fusarium head blight is not a new disease. It was identified over 100 years ago, in 1884, in England. It was first called wheat scab, and later, tombstone disease, because of the chalky, lifeless appearance of the infected kernels.
Fusarium head blight has occurred in eastern Canada and the United States for many years. Losses from FHB in eastern Canada date to at least the early 1940's. Fusarium graminearum was first identified in Manitoba in 1923, but no serious outbreaks were reported until 1984. Since then, surveys in western Canada conducted by the Canadian Grain Commission's Grain Research Laboratory have found Fusarium graminearum in an ever-expanding area, now reaching into northern British Columbia.
Fusarium graminearum is only one of many species of Fusarium, but it is considered the most important one in Canada because of the impact it has on yield and grain quality, its ability to produce several different toxins, and its abundance in eastern Canada and the eastern prairies.
In eastern Canada, it appears to be well established in all the cereal growing areas. In western Canada, Fusarium graminearum is found most frequently in the black soil zone. This zone is also the area of highest rainfall on the prairies. Infection is associated with rainfall during the flowering stage. The infection is spread by wind, but the pathogen is also spread by planting infected seed.
Seedling blight can occur when planting infected seeds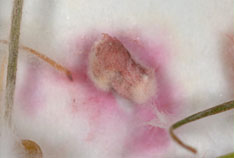 Fusarium head blight results in the production of visibly damaged seeds called fusarium-damaged kernels, as well as infected seeds which don't display visible symptoms of infection. These non-symptomatic seeds usually outnumber the fusarium-damaged kernels by a considerable margin. Planting infected seeds can result in a second disease called seedling blight.
Appearance of kernels with fusarium damage
Effects of Fusarium head blight are greater the earlier it strikes
Symptoms of Fusarium head blight on various grains
Wheat
Rye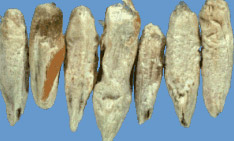 Oats
Barley
Four species in North America can cause FHB

Three species in North America are routinely found to produce it
Two of these produce DON (vomitoxin).
Fusarium graminearum = Gibberella zeae
These pictures show two stages in the life cycle of fusarium graminearum. The imperfect stage is called fusarium graminearum and the perfect stage is called Gibberella zeae. Both stages can occur together.
Sporodochia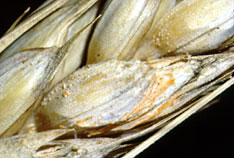 Conidiospores
Perithecia
Asci
Date modified: